Press Releases


Newport's First Waterfront Condominium in Nearly 10 Years Tops Out

KEYWORDS: Development Park and Shore Plaza Construction Real Estate Residential Strategic Capital

Park and Shore, a new luxury condominium development located along Jersey City's gold coast, officially celebrated its topping out today announced developer Strategic Capital, the investment arm of China Construction America, and construction manager and general contractor Plaza Construction. Designed by the internationally renowned architecture firm Woods Bagot, Park and Shore is comprised of two distinct buildings, 75 Park Lane and Shore House, which have now reached their full heights of 37 stories and seven stories, respectively. The condominiums represent the pinnacle of quality residential development in Jersey City and will feature unparalleled views of the Hudson River and Manhattan skyline, as well as an amenity-driven, full-service lifestyle unprecedented in the area.

Situated in the idyllic Newport neighborhood, Park and Shore represents the first condominium development within the predominantly rental driven area in eight years. In less than a year the two-building development is now more than fifty-percent sold, further illustrating the pent-up demand for homes for purchase in the sought-after neighborhood. With closings commencing in October 2018 and July 2019 respectively, Park and Shore is rapidly approaching completion and garnering significant interest from buyers as its limited remaining inventory continues to dwindle.

"This marks a major milestone for Park and Shore, and highlights how close we are to bringing this condominium development to life," noted Phillip Gesue at Strategic Capital. "Park and Shore signifies a truly unique opportunity in Jersey City – it fuses Manhattan-quality design, a robust amenity package and premier location for incredible value – and is redefining the Newport neighborhood."

Just under 40 stories tall and featuring 358 residences, 75 Park Lane provides buyers with the coveted experience of living in a high-rise tower with outstanding river views and resort-like amenities. Shore House, a boutique seven-story, 71-unit building inspired by the lofts of Tribeca, offers an industrial aesthetic and avant-garde design style. Both buildings are being constructed by Plaza Construction, one of the nation's leading construction management and general contracting companies and the sister-company of Strategic Capital.

"The interiors of 75 Park Lane are inspired by the sophisticated legacy of American modernism, while Shore House is a grittier counterpoint, recalling the industrial brick past of this neighbourhood," said Principal Wade Little. "We designed the whole complex as a collection of hospitality experiences. Amenities include an Olympic-size swimming pool, jacuzzi, spa, library, wine-tasting room, private dining room, putting green and a lavish health and wellness precinct, complete with sauna and pool with views of nature. The Sky Lounge, with a chef's table and terrace, commands wonderful views of the New York skyline."

Gerald Gendreau, AIA, Senior Associate and building architect, said, "Woods Bagot is thrilled to have had the opportunity to design Park and Shore. The two buildings are unified by common materials: naturally colored metal and terracotta frames that visually connect the buildings to the adjacent public park. We designed the exterior in keeping with the scales of the buildings: 75 Park Lane is comprised of an interlocking series of two-story frames with floor-to-ceiling glass, while Shore House, the lower building, features staggered, single-story frames. 75 Park Lane begins with a low-rise base that extends to the street face. Its tower is set back respecting the residential community scale and provides terrific views of Manhattan and the surrounding New Jersey landscape."

"We're excited to help realize the vision for such a significant project that is sure to redefine the Newport Skyline," stated Christopher Mills, Executive Vice President for Plaza Construction. "Currently Plaza Construction has well over two million square feet of ongoing construction throughout Jersey City. Our firm is proud to bring our record of excellence to this project and to reach this important milestone, while keeping on schedule and on budget. We look forward to the successful completion of Park and Shore."

In attendance at the top-out ceremony were China Construction America Chairman and President, Ning Yuan, Chinese Consul General in New York, Zhang Qiyue, Jersey City Mayor, Steven Fulop and Plaza Construction Chairman and Chief Executive Officer, Richard Wood.

"We are excited to welcome Park and Shore to our Jersey City community, and know that this development will be an incredible addition to the City's waterfront," said Mayor Steven Fulop. "Today's topping off ceremony represents and important milestone, and I look forward to cutting the ribbon on this building soon."
Ambassador Zhang Qiyue said, "We are glad to see Strategic Capital deliver Park and Shore on schedule while adhering to a high standard in quality. I have no doubt that this condo development will further enhance the vibrant community of Jersey City, which has become home of more and more international students and talented young professionals."
First closings at Park and Shore are slated to commence late 2018, and pricing for one-bedroom homes at both 75 Park Lane and Shore House starts at $640,000. The sales gallery is located at 100 Town Square Place in Jersey City, and for additional information please visit https://www.parkandshore.com, or call 201.798.0008.

###

About Park and Shore
A hallmark of the development, Park and Shore has been designed with an exquisite selection of high quality materials that create a tranquil living experience for residents.

The oversized windows, made possible by the exceptionally designed window and curtain walls, showcase picturesque views of the nearby park, Hudson River, and distant mountaintops. Light and air flood living spaces, promoting wellness and happiness.

Wide-plank wood flooring, by Swedish wood flooring firm Kährs, helps to create a timeless aesthetic and a grounding atmosphere for residents. Specifically, the white oak floors in 75 Park Lane offer a feeling of elegant modernity, while the walnut floors in Shore House evoke a subtle sense of luxury.

75 Park Lane's master baths embody a thoughtful and sophisticated design approach, illustrated through the use of eastern white marble floors and walls delicately contrasted by a Tundra Grey feature wall. The master baths at Shore House stylishly pair white begonia floors and walls with Venetian bronze accents.

In addition to the homes themselves, all other aspects of Park and Shore have been meticulously designed with exceptional materials and finishes. Stepping into Shore House, its hip yet intimate aesthetic become instantly clear through the ship-lapped oak plank walls, blackened steel feature wall and industrial Edison bulbs. Residents at 75 Park Lane are peacefully greeted with Blue de Savoie marble floors and columns of chiseled Inca Gray Basalt warmed by fluted Walnut wood panels.

About Strategic Capital
Strategic Capital is the US-based development and investment arm of China Construction America. As a premier global investment company, Strategic Capital focuses on investment opportunities in real estate and infrastructure across the Americas. Learn more: https://www.strategiccapital.us

About Woods Bagot Global Studio
Woods Bagot Global Studio continually expands and challenges the expectations of multi-disciplinary architectural practice in a fast-moving digital era. The firm's worldwide portfolio is defined by its clarity of narrative, sensitivity to urban and regional context, and ecological and social sustainability. Above all, Woods Bagot prioritizes human experience, delivering engaging, future-oriented spaces that are designed around their occupants.

About Plaza Construction
Plaza Construction is one of the nation's leading construction management and general contracting companies. The firm has played a notable role in building corporate headquarters, commercial properties, healthcare centers, universities, infrastructure, transportation facilities, museums, retail spaces, hospitality, and residential buildings. Since its incorporation in 1986, the firm has grown from a regional organization to a multi-faceted, national presence in the industry with headquarters in New York and regional offices in Miami, Tampa, and Washington, DC. To learn more visit: http://www.plazaconstruction.com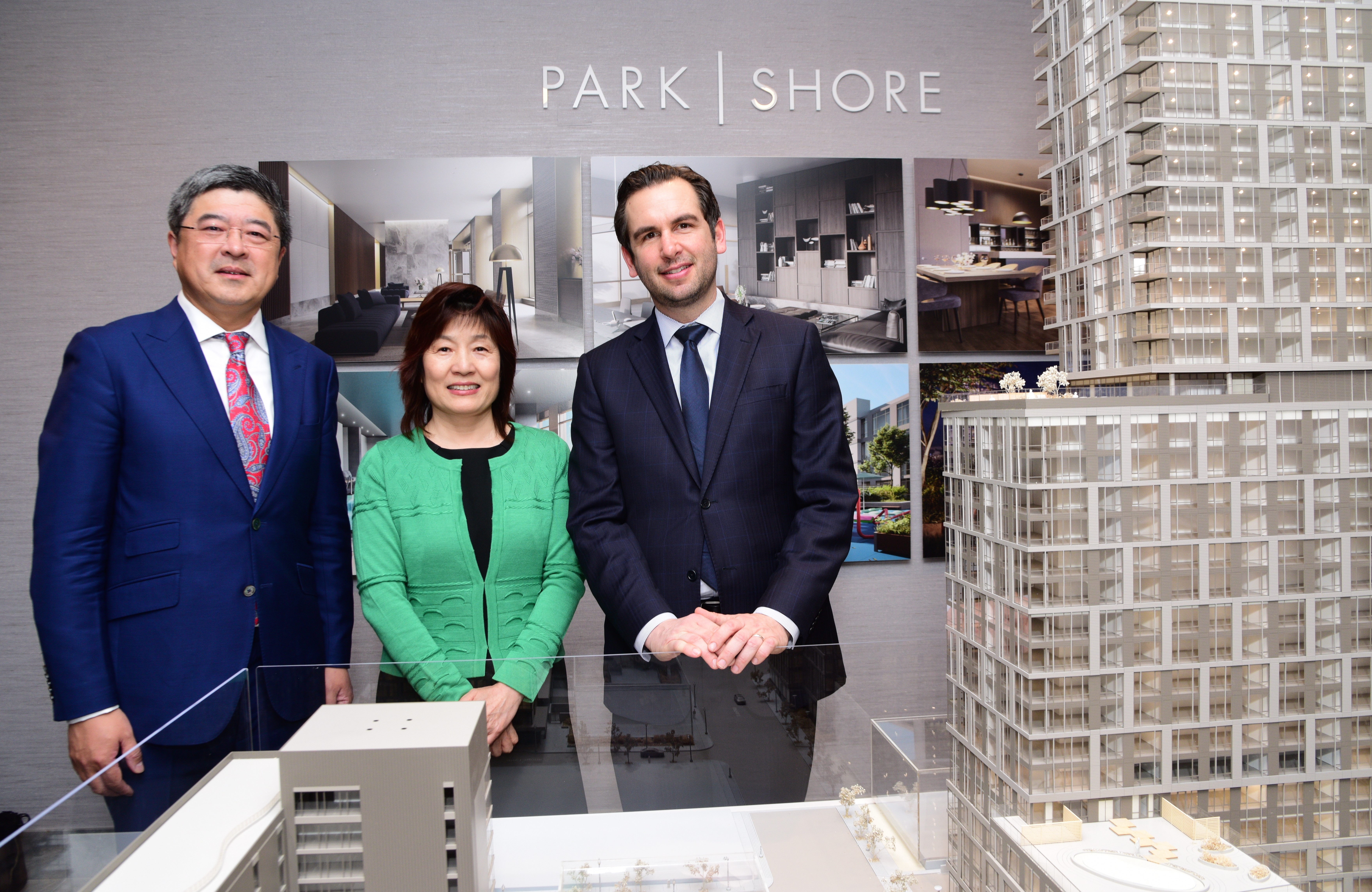 CCA President Ning Yuan (left), Consul General of China in New York Ambassador Zhang Qiyue (middle) and Jersey City Mayor Steven Fulop at the topping out of Park and Shore.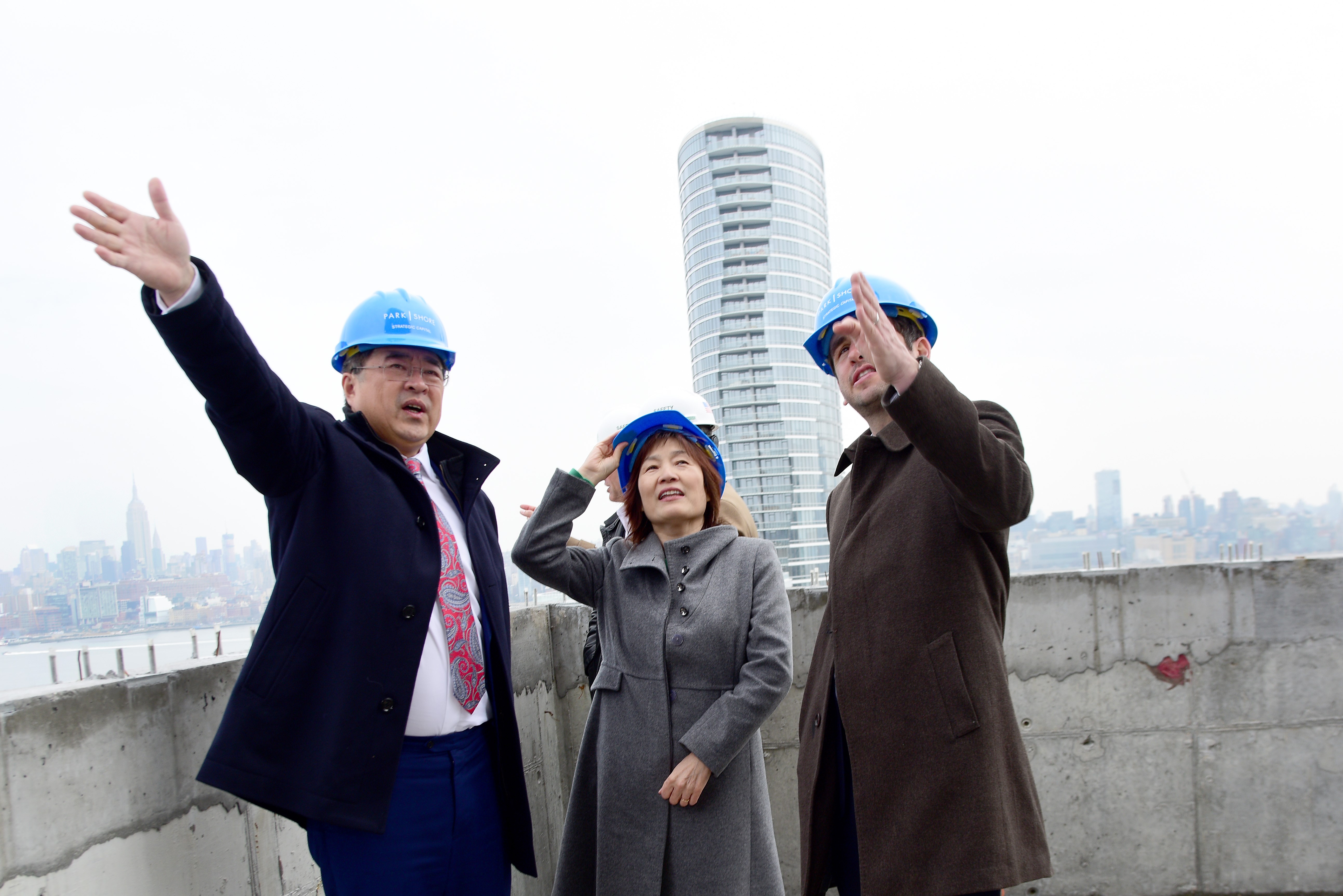 Mr. Yuan shows the Park and Shore project to Ambassador Zhang Qiyueand Mayor Steven Fulop on the 19th floor of 75 Park Lane.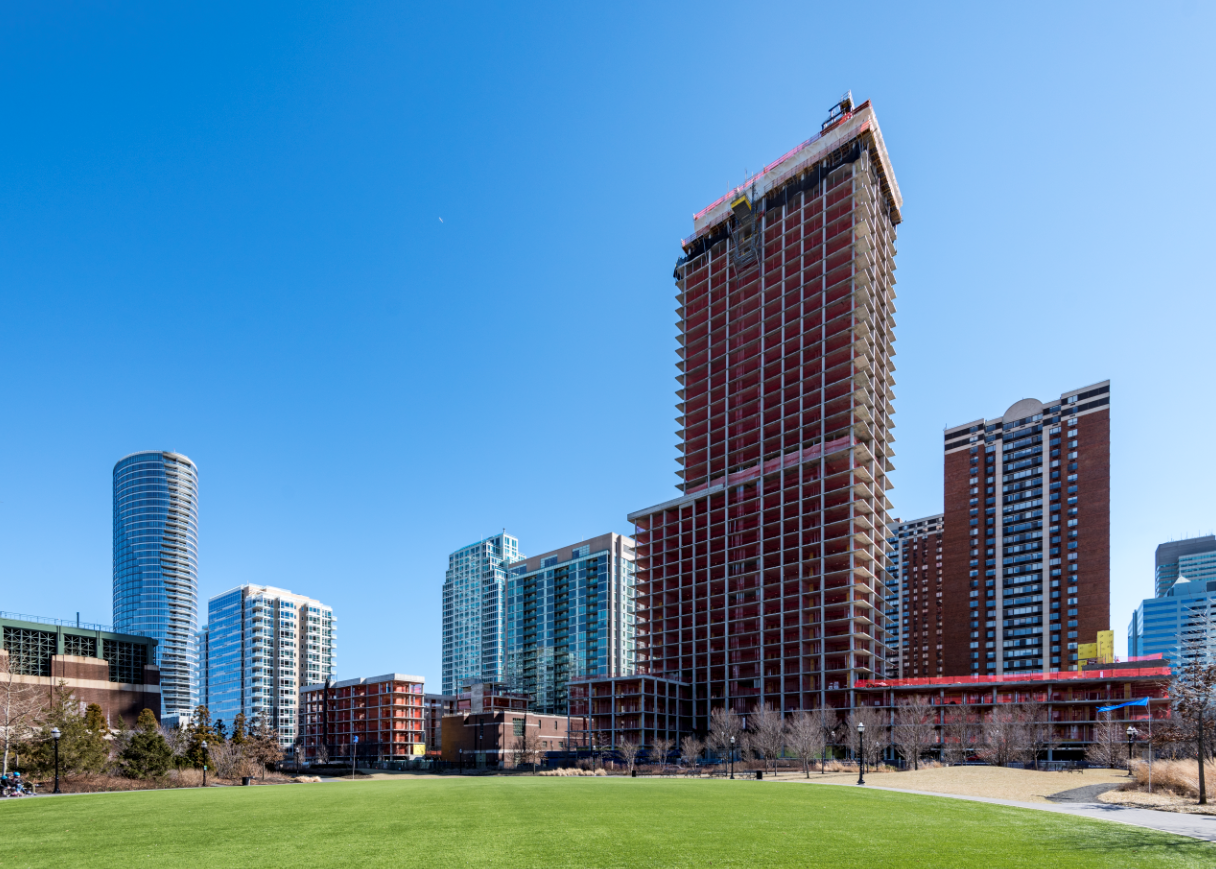 Shore House and 75 Park Lane are scheduled for completion in October 2018 and July 2019 respectively.