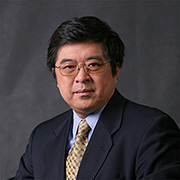 OVERVIEW
Message from the President
Since 1985, CCA's tenacious will and business acumen have propelled our company to become an industry leader characterized by excellence, superior quality and trustworthiness. As an investor, developer and builder, our commitment to innovation, respect for hard work and pursuit of a better living environment have resulted in the roads and bridges you travel on, the residences you live in, the offices you work in and the destinations where you relax. Dedicated to expanding happy spaces, we shape landscapes, build homes, inspire dreams and enrich lives through our integrity, practicality and creativity.
At CCA, diligence means that we persevere even in the face of adversity until our goal is realized. No matter how large CCA becomes, we honor hard work and treat every challenge as a stepping stone to success. We know diligence is the foundation of creativity and extraordinary undertakings.
At CCA, teamwork is the basis for high efficiency. We learn from the experiences and skills of our colleagues, respect each other and treat each other fairly. In this way, we personify the essence of the company.
At CCA, integrity is at the heart of our achievements and steady growth. Integrity is a part of our corporate spirit and enables us to create maximum opportunities for performance. It establishes our trust in each other and boosts our collaborative efforts.
At CCA, innovation is key to bringing vitality and longevity to our organization. Innovation takes courage and fortitude. By leveraging the capital market in China and employing sophisticated and non-traditional financial schemes, we are destined to identify new business models and growth areas.
At CCA, giving back to the community inspires and feeds our souls. We make informed decisions about how to use our talents to make a positive difference. We know we have a responsibility to do something good that will improve society as a whole and expand happy spaces.
We will uphold our business philosophy as we remain laser-focused on realizing our grand vision of building CCA into the most competitive investment and construction company in the Americas. Through the six centers we establish on behalf of our parent company, CSCEC, we will ensure CCA and all members of the CSCEC family excel in operations, management and technology and help us achieve our mission to Expand a Happy Living Environment. The six centers are: the Capital Operations Center, High-End Projects Center, Information Technology Center, Global Procurement Center, Talent Development & Training Center, and Innovation and R&D Center.
2015 marks CCA's 30th anniversary in the United States. Thirty years of making excellence the centerpiece of all our efforts has enabled CCA to grow into an extraordinary company that is respected by its clients, valued by its employees, recognized by its competitors and appreciated in the neighborhoods and communities in which we work. We hope our friends, supporters and clients will join us in celebrating this amazing time in our history.
Our journey toward becoming a world-class company is never-ending. We look forward to making more great strides with you and expanding happy spaces over the next 30 years.
Ning Yuan
CCA Chairman and President
READ MORE
CLOSE
CCA
Founded in 1985, China Construction America (CCA) is a subsidiary of China State Construction Engineering Corp. Ltd. (CSCEC) — one of the world's largest investment and construction groups — which operates in North America and South America.
Headquartered in Jersey City, NJ, CCA operates mainly in East Coast and Gulf Coast states, the Caribbean and Latin American countries. As an accomplished contractor, CCA provides services including program management, construction management, general contracting, design-build and public-private partnerships (PPP) for public and private clients. Its practical business approach and ambitious, yet prudent, development strategies enable the company to deliver high-profile and nonpareil commercial, residential, educational, industrial and heavy construction projects.
Leveraging its strong capital position, CCA has been actively exploring new growth areas in high-yielding, capital-intensive sectors such as real estate and project financing. By employing innovative financial structures and creating new business models, CCA will continue to pursue investments that surpass the status quo.
Since its inception, CCA has been laser-focused on achieving operational and managerial excellence. Years of commitment and effort have resulted in steady and accelerated growth. With visionary leadership and a dedicated team of seasoned professionals in all aspects of its business, CCA has become a leading US investment and construction company with aims to be the most competitive investment and construction company in the Americas. Integrating its founding principles of integrity and innovation with quality assurance and value creation —— CCA is committed to creating value and expanding happiness for all.
CSCEC
CSCEC is a public company listed on Shanghai Stock Exchange in Shanghai, China. Ranked 18th among Fortune Global 500 companies and No. 1 on ENR's Global Contractors list in 2020, CSCEC is one of the largest investment and construction groups in the world.
Operating in Asia, Europe, the Middle East, Africa, North America and South America, CSCEC has completed a myriad of projects including such breathtaking architectural construction marvels as the China Central Television headquarters, Beijing National Aquatics Center (The Water Cube), Shanghai World Financial Center, Ping An Financial Center, Hong Kong International Airport, African Union Conference Center, Rama VIII Bridge and Palm Jumeirah Villas.
As a reputable infrastructure contractor and one of the few companies certified to do major public infrastructure projects in China, CSCEC boasts vast experience in high-speed railways, urban subways and railways, highways, bridges, airports and power plants. Multiple high-speed railways and railway stations have been delivered with superior quality, including Harbin-Dalian High-Speed Railway, Shanghai-Hangzhou High-Speed Railway, Wuhan-Shijiazhuang High-Speed Railway and Wuhan-Xiaogan High-Speed Railway.
Through partnerships with local governments, CSCEC has become a leading player in the field. From investments to financing and design to construction, CSCEC offers turnkey solutions to project owners to enhance and expand national and metropolitan infrastructures.
CSCEC has delivered projects in 130 countries and regions around the world and employs more than 300,000 people. In 2019, CSCEC generated approximately $204 billion in revenue. As CSCEC continues its journey toward becoming a recognized leader and world-class company, the sky is the limit!
Mission, Vision & Core Values
CCA upholds the Mission, Vision, Core Values and Corporate Spirit embodied in the CSCEC Credo, which states the beliefs and goals that guide our employees' actions. It answers the questions:
Who are we?
Why do we do what we do?
What is our vision?
How do we do the right things and do them well?
Mission
Mission
Our mission is to Expand a Happy Living Environment for our customers, employees, shareholders and the communities where we live and operate.
Satisfying our customers, helping employees achieve success, delivering returns to shareholders and benefiting the communities we work in are the main objectives of our mission.
Vision
Vision
Our vision is to be the most competitive investment and construction company in the Americas. We aspire to be a sustainable company that excels in quality, integrity and creativity.
To achieve our vision, we focus on the Five Strategies and the Three Bs.
The Five Strategies are:
Specialization
Regional Centralization
Standardization
Informatization
Internationalization
The Three Bs stand for:
Big Market
Big Owner
Big Project
Core Values
Quality Assurance and Value Creation
We deliver superior quality in every aspect of our business by implementing industry best practices, and we run our company with the goal of enhancing its value and the values our customers entrust to our care. We are guided by the principles that everything we do creates value, and every employee creates value. Because we are committed to our ethical principles and fair business conduct, we are a reliable and trustworthy partner.
Corporate Spirit
Corporate Spirit
Our corporate spirit encompasses Integrity, Innovation, Transcendence and Win-Win. Integrity is the cornerstone of our organization. Without integrity, we cannot thrive and endure. Innovation is the key to the organization leading the industry. Following suit will not make us a great company. Transcendence is the driving force for us to constantly reflect on what we have achieved and set new and higher goals. Win-Win is the approach, or the mindset, to always achieve desired outcomes for all.
BUSINESS PLATFORMS
Plaza Construction

Plaza Construction is one of the nation's foremost full-service construction management and general contracting firms. Since its incorporation in 1986, Plaza has grown from a local organization to a multi-faceted national presence.
Plaza's staff of more than 500 industry professionals dedicate themselves to the highest quality of construction management service through the use of diligent coordination and proven reporting systems. For over 25 years, Plaza has had the privilege of providing construction services for a multitude of commercial properties, hospitality and residential buildings, retail venues, cultural establishments, government projects, corporate headquarters,  educational institutions and health-care facilities.
At the forefront of the ever-changing industry, Plaza is constantly exploring and developing new technologies and methods. Our innovation and creativity enable us to translate a client's concept into reality while keeping a solid focus on the task at hand.
Joining the CCA family in 2013 has made Plaza stronger than ever, as it provides the company with greater financial strength, bonding capabilities and a new latitude in dynamic growth. Plaza continues to operate under the name Plaza Construction, with a strategic mission to offer enhanced services and products to existing clients while exploring new geographic markets.
Plaza prides itself in having an outstanding team equipped with extensive international construction experience and local market knowledge. Led by Chairman and CEO Richard Wood, the team stands ready to apply its global vision and practical knowledge to every project both inside and outside the United States.
Professionalism and commitment to excellence has no national boundaries. Combined with hands-on experience and local knowledge, Plaza always excels.
CCA Civil

CCA formed CCA Civil in 2005 to focus on the heavy construction market in the New York metropolitan area. CCA Civil has grown vastly over the years, providing general contracting and design-build services to various public agencies.
CCA Civil has completed many signature infrastructure projects, including the $419 million Alexander Hamilton Bridge Rehabilitation project and the $94 million Ventilation Facility for the East Side Access project in New York. CCA's team of dedicated executives and employees broke into the New Jersey market in 2014 by winning the Pulaski Skyway Contract #3 and Contract #4 projects valued at $335 million. Using its parent company's expertise, as well as local resources, CCA Civil is continuing its expansion to become one of the top contractors in the tri-state area.
Whether the projects entail highways and bridges above ground or ventilation facilities and tunnels below ground, CCA Civil aims to complete them safely, on time and in budget while providing high-quality end products to the owner and the public.
CCA South America

CCA South America is the main platform for CCA to explore and conduct business in South America and the Caribbean. While it is proactively pursuing investment and construction opportunities in the region, the company currently operates mainly in The Bahamas, Panama and Argentina.
CCA South America is proud to be part of the Bahamian government's effort to improve its economy through direct foreign investment and the creation of jobs and training opportunities.
The opening of the Panama office marked a significant milestone in CCA's history. Panama is one of the fastest-growing and best-managed economies in Latin America. The government continues to invest in the nation's infrastructure, and the expansion of the Panama Canal and trade-promotion agreement between the United States and Panama have put CCA South America in a position to help Panama — and all of Latin America — realize its development ambitions.
CCA South America's dedication, experience, network capability and expertise in finance can overcome the seemingly impossible. The company is eager to share its knowledge and resources with the people and governments of South America and the Caribbean. CCA South America is committed to investing in the region's development and benefiting the local economy by using local resources and giving back to the community.
Strategic Capital

Strategic Capital is a premier global investment company, focusing on real estate and infrastructure. We generate compelling risk-adjusted returns across economic cycles and over the long term, by developing, owning, managing and financing superior assets in the most resilient and dynamic high-barrier markets.
Headquartered in Jersey City, NJ, Strategic Capital pursues investment opportunities across the Americas in the fields of commercial, residential and mixed-used real estate, as well as infrastructure. Strategic Capital is equipped with the expertise to optimize asset acquisitions, development and operation. We seek long-term strategic partners who share our vision to create synergy.
With unparalleled experience in construction and development, coupled with strong financial strength, we are able to respond quickly to changes in the market and create value for all stakeholders.
GEOGRAPHIC FOOTPRINT
Click below to learn more about CCA in your region.