News


Strategic Capital and Plaza Construction Host Topping Out Ceremony at Final Phase of Hudson Park Apartment Community

KEYWORDS: Development Hudson Park Plaza Construction Real Estate Residential Strategic Capital

Strategic Capital, the investment and development arm of China Construction America (CCA), and Plaza Construction, are pleased to announce the completion of the superstructure of the final phase of the Hudson Park development.

This 230,000 square-foot project aligns with the revitalization of Yonkers, NY, with 213 studio, one- and two-bedroom rental units set over 16 acres of prime Hudson Riverfront parks and bike paths. The community is located directly across the street from the Yonkers Metro North stop and provides convenient access to Manhattan in a 25-minute commute. The topping off ceremony included political and Industry leaders at 1 Alexander Street in Yonkers, New York on Wednesday, September 27 at 11:30 AM.

"As the Hudson Park River Club development nears completion, I would like to thank the team and all contributing partners for their dedication to this project," said Ning Yuan, President of China Construction America. "It has been incredibly exciting to watch this project rise from the ground after countless hours spent on planning and coordination."

"Hudson Park offers arguably the best value proposition of any luxury apartment community in the NYC metropolitan area: an idyllic setting on the bank of the Hudson River, a 25-minute commute to Grand Central and 1-bedroom apartment rents from $1,750/month," said Phillip Gesue, Strategic Capital's Chief Development officer.

"Plaza Construction is proud to be part of the development of this waterfront property, which contributes to the revitalization of the city of Yonkers, bringing luxury rental units to the waterfront area," concluded Tom Cossu, Senior Vice President, Plaza Construction.

Hudson Park is a 16-acre development overlooking Manhattan on the Hudson River. The final phase is a 230,000-square-foot building that will include 213 studio and one- and two-bedroom rental units. The property will provide a wide range of amenities including indoor pool overlooking the Hudson River, resident lounge, resident club room, chef's kitchen for entertaining, state of the art fitness center, a recreation area, and covered multi-level parking.

Hudson Park is across the street from the Yonkers Metro North train station, which offers a quick 25-minute commute into Grand Central Terminal. The development is conveniently located near diverse restaurants and bars, shopping, museums, and performing arts venues.

Strategic Capital is the US-based investment and development arm of China Construction America. As a premier global investment company, Strategic Capital focuses on investment opportunities in real estate and infrastructure across the Americas.

Plaza Construction is one of the nation's leading construction management and general contracting companies. Since 1986, the firm has played a very relevant role in building corporate headquarters, commercial properties, healthcare centers, universities, infrastructure, transportation facilities, museums, retail spaces, hospitality, and residential buildings with such prestigious projects as 150 Charles Street, MTA Fulton Street Transit Center, Brooklyn Navy Yard, Eleven Times Square, and W Hotel South Beach, among others.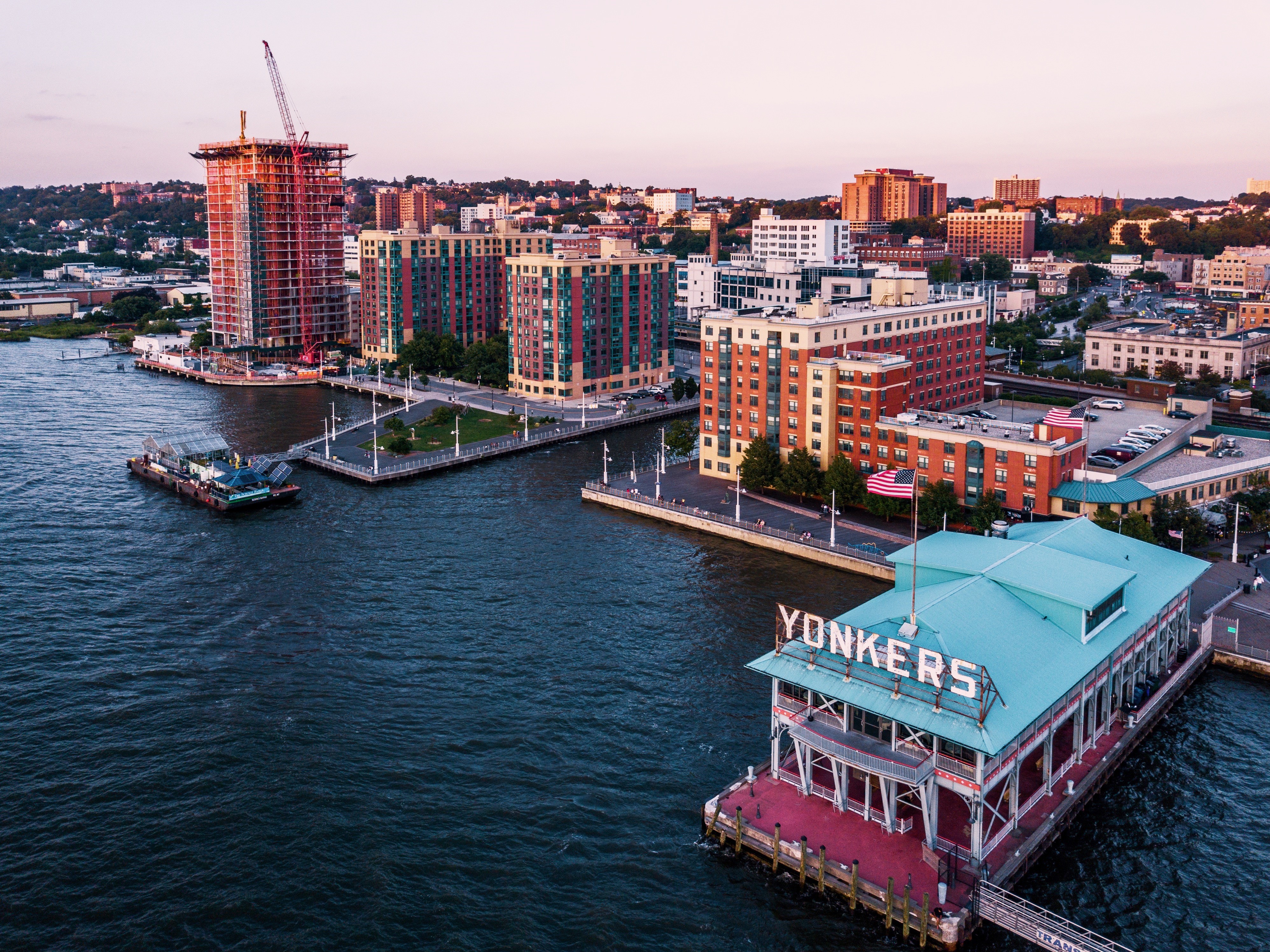 Drone photo of Hudson Park in Yonkers.