News


British Colonial Hilton Nassau Hotel Continues Operating During Pandemic

KEYWORDS: Bahamas British Colonial CCA South America CleanStay Hilton hotel Nassau Reopen

As the Bahamas entered the final phase of opening its economy and border on July 1, 2020, the British Colonial Hilton Nassau Hotel is taking all necessary precautions to be ready to welcome back guests.

The British Colonial Hilton continued operating throughout the COVID-19 pandemic providing a place for stranded guests, long-term clients and emergency personnel to stay, while adapting its operations to ensure the safety and health of its customers and team members. The hotel introduced the Hilton CleanStay program developed by Hilton Hotels worldwide and operated at a reduced capacity while adding enhancements to its already stringent hygiene protocols and establishing measures to promote social distancing throughout the property, including in room assignments, dining, the pool, beach and fitness areas. The hotel adheres to all federal and local orders, laws and ordinances as mandated by all government agencies and city officials.

The British Colonial Hilton is one of the most iconic and distinct hotels on the island of New Providence, the Bahamas. Situated in the heart of Nassau's city center in the financial and shopping district, the British Colonial Hilton provides guests with a first-class, luxurious blend of business and pleasure. Featuring 288 rooms and suites, the hotel offers an array of recreational facilities, including a private beach, freshwater swimming pool overlooking the harbor, full fitness center and non-motorized water sports.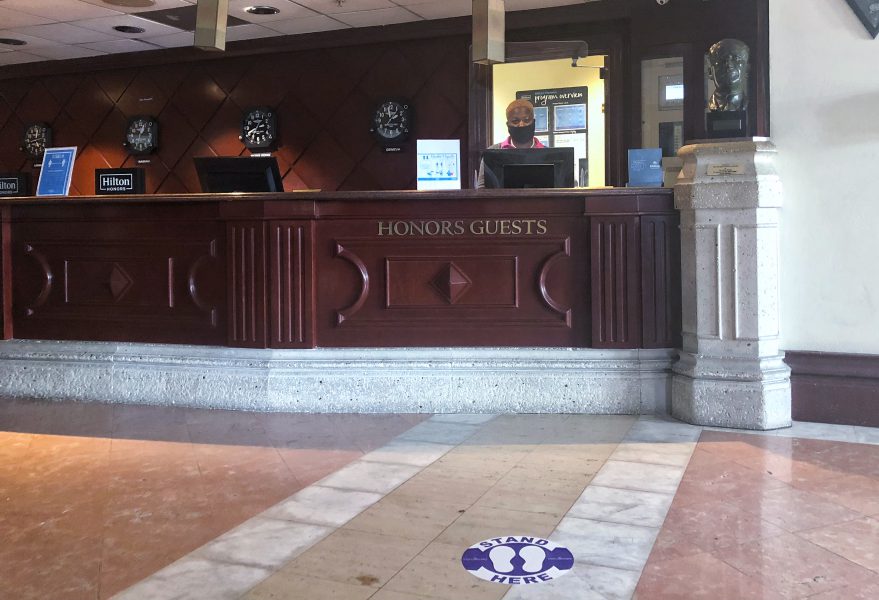 The reception desk at the British Colonial Hilton Nassau Hotel.